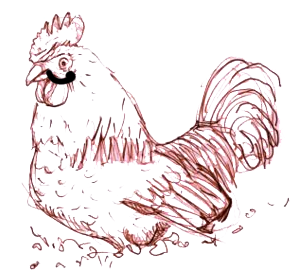 Every Topic In The Universe Except Chickens
dot com

WIKIPEDIA IS PRETTY NEAT!

Wikipedia is an encyclopedia that everyone can edit. That's rad! It's a good place to learn a lot about the internet, sex, explosions, Ravenna, Ohio, and Captain Picard.

BUT DUDE WIKIPEDIA HAS A PROBLEM!

The problem is that dudes and ladies like to vandalize it with misinformation, falsehoods, stories about their cats, and sometimes even pictures of wieners in articles that aren't even about wieners. I saw that once.

THAT IS NOT COOL

THAT IS NOT COOL because what if you are using the internet for serious research and you ended up thinking that Jodie Foster was History's Greatest Villain? THIS GRIM VISION IS POSSIBLE WITH WIKIPEDIA. You would end up getting a D+.

NOW THERE IS A SOLUTION

ALL WE NEED TO DO is direct our vandalism entirely to the article about chickens. Imagine a Wikipedia free of vandalism! A WIKIPEDIA FREE OF PAGES THAT SAY JODIE FOSTER IS HISTORY'S GREATEST VILLAIN. I like Jodie Foster. I think she's great.

Friends, this goal is within reach. I give you a new Wikipedia. A Wikipedia evolved, a Wikipedia that lives here in the real world. A Wikipedia that makes just one tiny concession to vandals, a concession for the greater good. I give you Wikipedia 2.0, otherwise known as Wikipedia: Every Topic In The Universe, Except Chickens (Dot Com).
---
HOW IT WORKS:
Simple! I just said. Instead of vandalizing Wikipedia in general, we all just vandalize the chicken article.
How does it work? Dudes already know about chickens. Ladies also already know about chickens. Does an encyclopedia really need an article about nature's tastiest birds? You know the answer is "no it most certainly does not".
Wikipedia simply GIVES UP that article to vandals, and in return the other articles, like the one about octopods (Humanity's Underwater ChumsTM), do not get vandalized.
Instead of a quantum encyclopedia, with vandalism and falsehoods peppered throughout at various locations AND at various times, Wikipedia becomes a consistently RELIABLE encyclopedia that covers every topic in the universe, except chickens. We say it again: dudes already know about chickens.
---
WON'T WIKIPEDIA GET MAD?
No, Wikipedia cannot get mad because despite what some Wikipedia editors claim, Wikipedia is not actually alive. No nation on Earth recognizes Wikipedia as life.
---
OKAY BUT WON'T PEOPLE ON WIKIPEDIA GET MAD?
The voice of Science tells us that it is impossible for a person to get mad when all their problems are solved. Wikipedia's vandalism problem GOES AWAY FOREVER, and all we ask is that chickens become The Forbidden Topic.
"We never talk about chickens", Wikipedia can say. "Don't ask."
You may be asking yourself, "Hey, wait! Is it not true that MANY WIKIPEDIA EDITORS ARE TRULY HUMOURLESS ABOUT WIKIPEDIA?? Daaamn! How will they ever go along with this?"
They will love this idea because Jimbo Wales, founder and frontman of Wikipedia, loves this idea. And not just any Jimbo Wales. This idea is supported 100% by
---

FICTIONAL JIMBO WALES
---
He's the most accommodating instance of Jimbo Wales in the known universe, and the word "fictional" in a rainbow 70s font always appears above his head. I don't know why.
So take it from me, take it from this website, take it from Fictional Jimbo Wales himself: solve the problems. Save Wikipedia. Do your part and vandalize the chicken article. Perhaps you'll add jokes about dogs, or observations about how babies are cute! Screw Britannica and their 2.92 errors per article. Together we can build Wikipedia 2.0: the World's Best Encyclopedia, covering every topic in the universe, except chickens.
If you look up chickens then I don't know what to tell you.
---
"GUYS IT WOULD BE NEAT IF YOU VANDALIZED THE CHICKEN ARTICLE TODAY OKAY"
- Fictional Jimbo Wales??
---
WAIT WAIT I STILL HAVE QUESTIONS
If that is the case, please feel free to contact us! ryan@everytopicintheuniverseexceptchickens.com is your "touch point" for all your every topic in the universe, except chickens, needs.
---
logo is a hilariously vandalized version of chicken sketches by VxD
the picture of fictional jimbo wales is an ingeniously modified version of this portrait by gus freedman
both are used and distributed under a creative commons attribution-sharealike 2.5 license!
dinosaur comics